A.K.M Fazlul Quader Chowdhury was born on 26 March in the year 1919 in his ancestral home Gohira of Raojan under Chittagong district.. His father Khan Bahadur Abdul Jabbar Chowdhury was a police officer.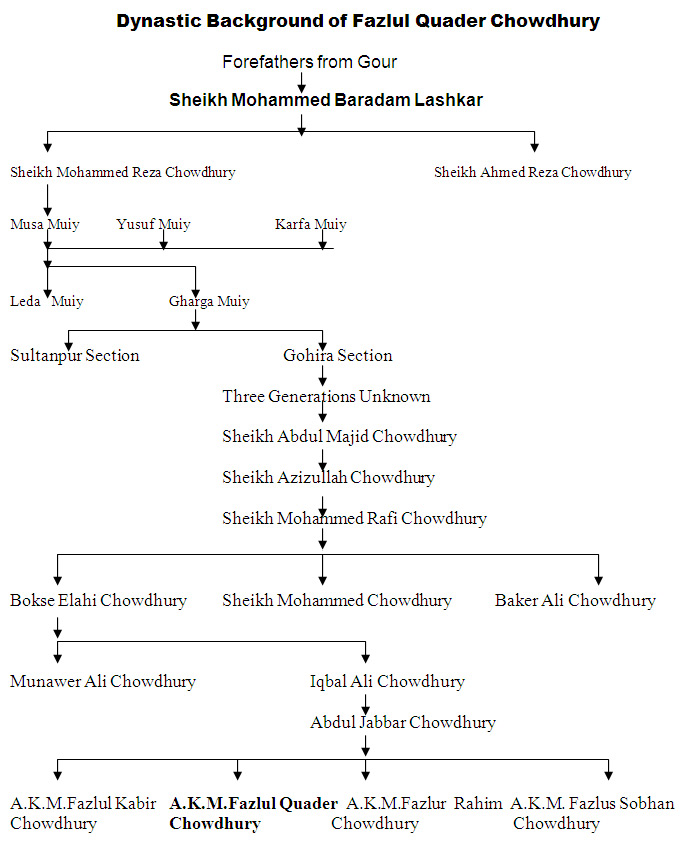 Muiy is a Persian word which means Mukim. Mukim originally derives from Arabic vocabulary meaning resident of any place. In Persian language it means Zaigirdar. During Muslim rule in India Zaigirdars possessed huge estate. Large number of troops were also at the disposal of a Zaigir. Hence Muiy Or Mikim was feudalistic lord of specific areas under Moghul empire.

Maternal ancestors of Fazlul Quader Chowdhury also hails from humble Chowdhury dynasty. His maternal home Zan Ali Chowdhury Bari is situated at Rahimpur village under Hathazari of Chittagong district. Siddique Ahmed Chowdhury, descendant of that dynasty was the maternal grandfather of Fazlul Quader Chowdhury and the son of Begum Rahimunnesa, first Muslim poetess of medieval Bengali literature. Begum Fatema Kathun Chowdhurani, mother of fazlul Quader Chowdhury was granddaughter of poetess Rahimunnesa. Fatema Khatun breathed her last in the year 1996.

Boyhood and Education:

He began his primary education in Government M.E. School, opposite to Chittagong Govt. College and then at his village Gohira Primary School. As his father Khan Bahadur Abdul Jabbar Chowdhury was a police official during British –India, Fazlul Quader spent his boyhood and continued early education in different districts as his temporary domiciles.
At the age of fifteen, he passed Matriculation Examination securing first division from Noakhali Zilla High School in the year 1934. In the year 1936, he passed I.A. Examination in first division from Brojomohan College (B.M.College) of Barisal district. Later he went to Calcutta (now Kolkata), the then capital of undivided Bengal to achieve higher education.
The Presidency College of Calcutta is one of the best colleges of India. It was a tough venture for a Muslim Bengalee student to get himself admitted into that college. Fazlul Quader Chowdhury, by dint of his brilliance and outstanding merit, was qualified for admission to Presidency College in honours class in the department of History. He was also attached with college dormitory Carmichael Hostel. During his study in degree class, his latent faculties of leadership began to flourish. By winning the hearts and confidence of the resident students, he was elected Vice-president of Carmichael Hostel Students Union for successive two terms (1938-1940). Such attainment was possible by virtue of his sterling qualities like talent, eloquence and pleasant disposition.
In the year 1938, he obtained his Bachelor of Arts with honours in history and stood 5th in order of merit. Later, instead of completing M.A., he took his L.L.B. under Kalkatta University.

INCEPTION OF POLITICAL LIFE:

During his student life in Calcutta Presidency College, he was inspired by revolutionary spirit of Netaji Suvash Bose and became his follower. In close association of Nataji, he delivered speeches in several public meetings at Shradhwananda Park, Moulana Mohammed Ali Park, Gor Maidan, Dalhousi Square of Calcutta.
At the outset of Second World War, Netaji Suvash Bose secretly left India. At the time of his departure, Colonel Shahnewaj of Azad hind Fouj and Fazlul Quader were

present. Later he was also attracted to Allama Enayet Ullah Mashreki, founder of Punjab Khaksar Party and worked with him for some time.

HOLWELL MONUMENT DEMOLISHED:

Holwell Monument was erected in 1901 at the corner of Dalhousie Square, which is said to be the site of the Black Hole. The Black hole of Calcutta (now Kalkatta) was a small dungeon in the Fort William, at Kalkatta , India, where troops of the Nawab of Bengal, Sirajuddowla, held British prisoners of war after the capture of the Fort William on June 19, 1756. One of the prisoners, John Zephania Holwell, claimed that following the fall of the Fort, British and Anglo-Indian soldiers and civilians were held overnight in conditions so cramped that many died from suffocation, heat exhaustion and crushing. He claimed that 123 prisoners died out of 146 prisoners held.
An obelisk, 50 feet high (15 m) was erected in memory of the dead.
However, the precise number of deaths, and the accuracy of Holwell's claim, have been the subject of controversy.
At the apex of the Indian Independence Movement, the presence of this monument in Kalkatta was turned into a nationalist cause celebre. Nationalist leaders like Subhash Chandra Bose lobbied energetically for its removal. The Congress and the Muslim League joined forces in the anti-monument movement. As a result, student leaders of Muslim Students Federation, Fazlul Quader Chowdhury of Chittagong and Abdul Wasek Mia of Nawabganj led the removal of the monument from Dalhousie Square in July, 1940.

JOINING MUSLIM LEAGUE:

In 1938, Fazlul Quader attended a meting at Anglo Arabic College of Delhi where Muslim League leader Muhammad Ali Zinnah addressed. Fazlul Quader was irresistibly fascinated by rational, spell binding eloquence of Mr. Jinnah. After many years he realised that he got his true path, his own ideology to develop his latent faculties of leadership. In 1939 during his study in Presidency College, he was invited to attend All India Students Conference at Aligarh University. In that conference he showed his outstanding oratory. All the students were so convinced that they elected him General Secretary of All India Muslim Students Federation. Yasin Khan, Raja of Mahmudabad was elected President of the federation.

In 1940, amid fury of the Second World War, Muslim League began active movement for freedom of Indian Muslims. On 23 March, 1940, All India Muslim League Conference was held in Lahore. Mohammed Ali Jinnah took the chair and Sher-e- Bangla A.K.Fazlul Hoque , premier of the then undivided Bengal tabled the historical Lahore Resolution in that conference. Only twenty one year old Fazlul Quader attended the conference as the youngest councillor.

During the years between 1941-44, he travelled across undivided Bengal for organising Muslim League and popularising its issue among the youth. On 5th January,1942 Fazlul Quader went to Faridpur district to attend a public meeting. On the following day, January 6, he was arrested under D.I.R. After attending the meeting, he left Goalanda for Chandpur, wherefrom he was on the way to Chittagong by railway. At Laksham railway junction , British government arrested him and brought him back to Faridpur Circuit House. Sheikh Mujibur Rahman, the stalwart, leader of Faridpur district Muslim Students League called on strike at all educational institutions in protest of Chowdhury's arrest. To register protest, Bengal Muslim Students' Federation at Calcutta observed "Fazlul Quader Week". Faridpur District Court accused Fazlul Quader of subversive and anti-state move; but Calcutta High Court acquitted him. Prestigious dailies like the Azad, the Ittehad condemned 'Shyama-Hoque Cabinet' for such suppression. It is worth-mentioning that Fazlul Quader was the first Muslim leader to undergo arrest under D.I.R.

FAMINE OF 1943:

A famine broke out throughout Bengal in the year 1943. It came as an imprecation of the Second World War. Then Khawja Najimuddin was premier of undivided Bengal and Hussain Shahid Suhrawardy, minister for Civil Supplies. Common people were paying price for devastation of war. Indian Congress leaders were relaxing behind the bar of prison. Shyama-Hoque cabinet of Bengal was at its loss to face and manage the dearth of food and starvation of the humanity. Fazlul Quader Chowdhury came forward to stand by his fellow countrymen in the hour of suffering. He persuaded Civil Supplies Minister Suhrawardy and with his assistance and co-operation, Fazlul Quader arranged distribution of rice, foodstuffs by air dropping throughout the vast inhabitation from the bank of the river Feni to the remotest area of Teknaf.
FAZLUL QUADER STEPS INTO POLITICAL ARENA OF CHITTAGONG:
In 1944 Fazlul Quader was the Secretary of District Muslim League of Chittagong. It was meaningful why All India Muslim League leaders decided to depute Fazlul Quader in the political arena of Chittagong while his political activities and rising leadership got prominence throughout Bengal Province.

Mr. Abul Hashim, renowned politician, philosopher and the then General Secretary of Bengal Provincial Muslim League in his autobiographical book "In Retrospection", gave a detailed account of his political tour at Chittagong in the month of April of 1944:
"………..The train reached Chittagong. We expected that some Muslim League leaders of Chittagong would receive us at the railway station but there we found none. When we came down from the train we saw a tall young man coming towards us. He was Fazlul Quadir Chowdhury. I saw him for the first time at the railway station.

Mr. Rafiuddin Chowdhury was the President and Fazlul Quader Chowdhury was the Secretary of District Muslim League of Chittagong. Mr. Suhrawardy , as General Secretary of Bengal Provincial ML, suspended Muslim League of Chittagong , immediately before I was elected General Secretary of Bengal Provincial ML. This order of suspension was issued due to serious conflict between the president and Secretary which resulted in a dead-lock. We came to Chittagong on inspection tour to find the actual state of affairs. …Mr. Fazlul Quadir Chowdhury took us in a car to a house near the Muslim Institute. This was a mess-house of some students of the Medical School of Chittagong. …..Fifteen minutes after my arrival at the mess Mr. Fazlul Quadir Chowdhury started exhibiting his strength. He presented to me members of the District Board, the Municipality, the School Board and Muslim Students' League Chittagong. They all demanded that Fazlul Quadir Chowdhury should be restored to his previous position as the Secretary of Chittagong District Muslim League. I gave them all patient hearing but did not make any comment. In the evening I addressed a meeting organised by Mr. Fazlul Quadir Chowdhuy at the Muslim Institute. When I entered the Muslim Institute all assembled there shouted slogans in support of Mr. Fazlul Quadir Chowdhury. The meeting was presided over by Mr. Abdus Sattar, a senior lawyer of Chittagong. ….. I stayed at Chittagong for two days more. These two days I spent attending tea, lunch and dinner parties organised by the two contending groups. When I came to Chittagong Fazlul Quadir Chowdhury alone came to the station to receive me. When I left Chittagong after three days a big crowd of Muslim gentry of Chittagong came to the railway station to see me off. I was satisfied that it was not possible to organise properly the Muslim League of Chittagong without active support of Mr. Fazlul Quadir Chowdhury. When the train moved, I called Mr. Fazlul Quadir Chowdhury and asked him to see me at Dacca the following day. He saw me at the party house of Dhaka. I handed over to him a typed copy of my judgement. I vacated the order of suspension of the District Muslim League of Chittagong and restored to its previous position. next day we left Dacca for Calcutta." Such was the indispensability of Fazlul Quader in the flourishing stage of Muslim League.

On 16 August 1946, Mr. Jinnah called to observe "Direct Action Day"- a call to free India from shackles of British hegemony. On that day, communal riots started throughout India. Hindus and Sikhs committed unprecedented atrocities over innocent Muslim populations in Kalkatta. On the eve of observing Direct Action Day at Chittagong, interim Congress Government supported by British deployed troops and police to stop agitation. The then General Secretary of Chittagong district Muslim League Mr.Fazlul Quader Chowdhury vehemently protested against the Government's anti-Muslim activities. Fazlul Quader riding on a horseback led Muslim National Guards to control the violent situation. Defying bullets and cannons of Congress Government he led the mammoth crowd. On that Direct Action Day, the people of Chittagong accorded him the title 'Tiger of Chittagong'. He formed peace committee in collaboration with Communist Party leader Kalpana Dutta and Congress leader Ambika Chakravarty and visited many places to check communal frenzy.
In 1946 provincial election, Muslim League parliamentary party did not give nomination to Fazlul Quader Chowdhury on the ground of his premature age. To quote Smritikotha (Memoirs) of Late Comrade Toha, the then Presidium member of Communist Party of Bangladesh: "In the forties, Fazlul Quader Chowdhury was the ideal leader of Sheikh Mujib. As Fazlul Quader Chowdhury was not given Muslim League nomination in the election of 1946, Sheikh Mujib, in agitation against Muslim League Parliamentary Committee, brought out a procession organising students of Islamia College in Kalkatta." (Toha's Memoirs published in magazine Sangskriti in June-July 2002).
Fazlul Quader Chowdhury gets married:
On 7 May 1947 Fazlul Quader Chowdhury got married in his 27. He married Syeda Selima Begum, daughter of Mr.Syed Azizullah hailing from prominent Syed family of South Charta of Comilla district. The young endearing leader of Muslims of Bengal began his wedded life on the forthcoming hour of achieving independence.
Chittagong Scenario on 14 August 1947:
It was 14 August 1947, the clock struck by 11:59 p.m.-the holy night of Shab-e-Barat, a special night of prayer for the Muslims in the Arabic month of Shaban. All the Muslims of Chittagong burst into cheers shared the joy from distance as the last Viceroy of British India handed over power to Quaid-e-Azam Muhammad Ali Jinnah-the first Governor-General of Pakistan. Independence Day was observed in Chittagong. Fazlul Quader Chowdhury was the central figure of the inaugural celebration of Independence Day. His other lieutenants were Abul Khair Siddiqui, M.A. Aziz, Zahur Ahmed Chowdhury, Azizur Rahman, Nurul Anowar Chowdhury, Moulana Abdur Rahman and many others.
Prior to 14th August, Fazlul Quader Chowdhury marched to Sylhet with Muslim League National Guards to build up support in the referendum on the question of accession of Sylhet district from Assam. The public verdict led Sylhet district-the land of holy saint Hazrat Shah Jalal to be the integral part of newly independent Pakistan.
Thus the story of a new state begins; born in adversity, bereaved of parents, persecuted by aliens, betrayed by countrymen, segregated in life, it embarked upon a lone career of hope, the voyage of freedom which flowered into Pakistan, after ninety years. Sir Syed Ahmed saw a vision, poet Allama Iqbal dreamt a dream, Jinnah translated the spiritual heritage into territorial terms and founded the State of Pakistan.
The Unfinished Autobiography of Bangabandhu Sheikh Mujibur Rahman-the founder of Bangladesh is replete with many memories of late thirties and forties of the twentieth century when Fazlul Quader Chowdhury was at the apex of leadership of All India Muslim Students' Federation and Sheikh Mujibur Rahman was a rising leader of Bengal Muslim Students' League at Kalkatta. At that time, the two contrasting figures of history were struggling together for the independence of Pakistan and for the emancipation of Muslims in the Sub-continent, especially for the cause of Bengalee Muslims.
Fazlul Quader Chowdhury in post-Independence Politics:
CHAIRMAN OF CHITTAGONG DISTRICT BOARD:
Fazlul Quader Chowdhury was denied nomination by Muslim League policy makers in the provincial polls of 1946. The people of Chittagong elected him Chairman of District Board in the year 1949. He held the Chairmanship of Chittagong District Board and School Board for seven years. Then all the primary schools were under control of District Board.
ELECTED MLA FOR THE FIRST TIME:
His career in parliamentary politics started winning the election of 1954. He was elected to East Pakistan Legislative Assembly in 1954 as an independent candidate. Despite being denied nomination by Muslim League, he contested the election at the behest of overwhelming popular support in his constituency. However, in the crisis of Muslim League to form parliamentary party with its only nine elected MLAs, Mr. Chowdhury joined ML to form parliamentary party. In the same year, he participated in the 9th session of UN General Assembly as a member of delegation of Pakistan led by Mohammed Ali Bogra, Prime Minister of Pakistan.
TRADE UNION LEADER:
In 1956, Mr. Chowdhury was elected President of Adamjee Jute Mills Trade Union and later, elected president of East Pakistan Dockyard Workers' Union. As the president of Adamjee Jute Mills Labour Union, he concluded agreement with employers which brought substantial benefit to the workers in the increase of wages and pension benefit. Comrade Toha, in the episode "Sikir Khela" (Game of 25 paisa) in his "Smritikotha"(Memoirs), reminisced and revealed the untold story of the rise of Fazlul Quader Chowdhury in trade union of Adamjee Jute Mills and role of the then Labour Minister Sheikh Mujibur Rahman (1956). Mr. Toha also termed Chowdhury as a good orator – a Demagogue.
As the president of East Pakistan Dockyard Labour Union, he persuaded I.G.N. and R.S.N. Companies to grant half of the salary (like government employees) as pension to the workers after retirement.
INDUCTION TO CENTRAL CABINET:
In 1962, he was elected to the National Assembly under the 2nd constitution. Due to his firmness, the constitution was amended allowing ministers to retain their seats in the house. With overwhelming popularity, he joined central cabinet of Pakistan in June, 1962 and held nine ministerial portfolios at a time, viz., Education, Information & Broadcasting, Food, Agriculture, Works, Health, Labour & Social Welfare till he resigned in October 1963. As a minister, he drew the attention of the government for removal of disparity between East Pakistan and West Pakistan in the field of trade and commerce, industry, education, service in civil and defence. During the tenure he was minister, he took unflinching steps in establishment of Chittagong Medical College (Formerly School of Medicine), Chittagong Engineering College (now CUET), Marine Academy, Polytechnic Institute, Marine Fisheries, etc.
Speaker of National Assembly:-
He was unanimously elected Speaker of the National Assembly of Pakistan on 29 November 1963 preceded by former speaker Moulavi Tamizuddin Khan. He stamped his mark on parliamentary history by conducting the business of the house in impartial manner enjoying full confidence of both treasury and opposition. He continued as speaker till June 1965. Being the ex-officio President of Pakistan by virtue of his Speakership, he took the epoch-making step of establishment of Chittagong University. Exercising state power, he finalised site selection, allocation of fund for the proposed project. He did not care even to jeopardize his position in the state and within party for implementing establishment of Chittagong University.
Stepping down from state power, he was again elected to the National Assembly in 1965. He is one of the rarely born politicians of this sub-continent who never feared and never failed to win the hearts of people in election.
Strategically, Fazlul Quader Chowdhury joined cabinet under President Ayub Khan as the emergence of martial law was an all-pervading situation at that time. But he did never compromise like a 'yes man' politician. His clarity on the question of regional disparity, firmness in Islamic principles and his protest for faulty party leadership led him to a one-sided position. The mental conflict developed between Fazlul Quader and President Ayub Khan can be vivid from the excerpt of his letter written on 25-12-1968 to Nawabzada Nasrullah Khan, a leader of opposition and the senior most politician o his time:
"...................................I deem it my duty to consult you about my future course of action in the political scene of the country. Needless to mention that I would fight for the restoration of people's rights. Sometimes some of our friends ask me all sorts of questions regarding my association with Ayub regime. It is true I did criticize the leaders of the past regimes for omissions and commissions and their political behaviour, which made the ground fertile for the promulgation of martial law in the country. May be important public men did blunders with honest intentions you know martial law was hailed in the country and even personalities like late khawja Najimuddin and Mohtarma Fatema Jinnah hailed promulgation of martial law. I might also have committed blunders by trusting Ayub Khan about his political intentions. But I did all that in good faith with a fond hope that I would be able to convert Ayub Khan to democratic way of thinking and rights of the people would be restored by him."
A good doctor never gives up hope in treatment of critical disease; he tries to prove his worth. Fazlul Quader also played that role. He was almost sure about fall of Ayub Khan. He further added in this letter: ""May I remind, my friend, it was Marshal Bernadette one of the marshals of Napoleon, who ultimately engineered the downfall of Napoleon, when he behaved like a dictator and became guilty of broken pledges and nepotism."
In the much talked about Agartala Conspiracy case against the then opposition leader Sheikh Mujibur Rahman, Fazlul Quader Chowdhury to be in the panel of lawyers for defending his old comrade Sheikh Mujib despite both being politically poles apart at that time.
Perhaps, Ayub Khan realized the indispensability of Fazlul Quader in party leadership. So, he again accepted the post of president of Muslim League at the end of 1969. But it was too late to save from fall.
AFTER 1970 ELECTION:

The transfer of power at that time became a centre of controversy. Because Pakistan People's Party of Z.A. Bhutto got majority in Western province and Sheikh Mujib's Awami League secured a simple majority in Eastern part which qualified him to form the new government. Due to intransigency of Z.A. Bhutto and lack of political acumen of the Chief Martial Law Administrator and President General Yahya led to the Bengalees' struggle for independence. Fazlul Quader Chowdhury had several telephonic discussion with his old comrade Sheikh Mujib and finally met him on 16 March 1971 and alerted him about the machiavellian Bhutto's jackal like approach to political impasse. News of meeting between Bangabandhu Sheikh Mujib and Muslim League leader AKM Fazlul Quader Chowdhury was published in Daily Purbadesh, Daily Songbad and other newspapers.

However, Fazlul Quader did not leave ML and as an idealist he believed in integrity of Pakistan.. Thus, he accepted the inevitable fate. At the end of liberation war in December 1971, he was arrested by Indian Alliance Forces (Mitra Bahini) and detained in jail.

Death in Dhaka Central Jail :

In the evening of July 18th, 1973, he died in the cell of Dhaka Central jail under mysterious circumstances with many questions unanswered. A huge crowd turned up on July 19th afternoon at Patenga Airport to receive his body. A person who was charged with treason drew an unprecedented congregation at his Namaz-e Jainaza held at Parade Square. It certainly kept one pondering the relative meanings of a 'Patriot' and a 'Traitor'. He was buried at his home graveyard on 20 July.
Free thinker and eminent litterateur Professor Abul Fazal wrote an article titled "Jar Ja Prappo" (What he deserves) on Fazlul Quader Chowdhury in the daily Ittefaq after four days of his death. In this analytical essay Abul Fazal wrote: "He was always a hero in the minds of a great many people. Gathering of huge crowd after his dead body was brought at his Chittagong residence and mammoth turnout at his namaje jainaza can be easily identified as the final and silent manifestation of esteem for their leader."
Fazlul Quader Chowdhury appeared majestically in the arena of politics of undivided India during thirties of the 20th century, he rose to the power and glory remarkably during the sixties and he was laid to eternal rest tragically in the seventies. In a short span of 54 years of lifetime, meteoric scale of his rise, from a student leader to the Speaker of National Assembly and Acting President of undivided Pakistan, attributes his outstanding qualities of leadership, firmness to face challenges and above all, his ardent idealism.
Let us conclude quoting two lines of verses of poet, philosopher Allama Iqbal that Late Chowdhury cited in his Vice-President's address delivered on 27 September 1940 at the seventh anniversary of Carmichael Hostel Union:
"Come and let us ordain the destiny of nation
Let us play the game of life like men."
References:
Fazlul Quader Chowdhury o Shamakalin Muslim Samaj- a book by Mohammed Hason published in 2001 by Dolphin Prakashan.
Black Hole in Wikipedia.
In Retrospection- a memoir written by Abul Hashim, an eminent philosopher and General Secretary of Bengal Muslim League in 1946.
Tohar Smritikotha (Toha's Memoirs) published in Sangskriti- a magazine published in 2001 from Dhaka.
Paper Clip of Dainik Bangla dated:
Parliamentary Minutes of Pakistan National Assembly.